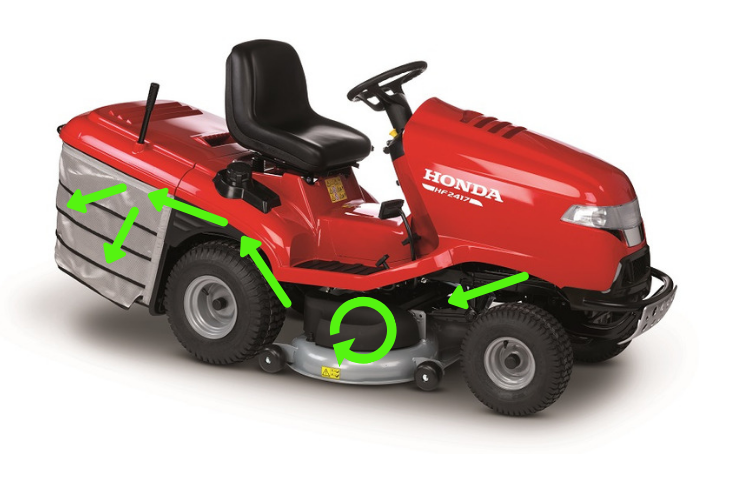 Honda has long been producing high quality, reliable outdoor power equipment and making advancements in the technology along the way. A great example of this is the HF2417 Honda Ride-on Lawn mower, a mower perfect for large sections and estates. The HF2417 offers great efficiency, comfort of the rider, and easy starting, all powered by a Honda GCV530 V-twin motor. 
One stand out feature of the HF2417 is Honda's Optiflow™ technology, this feature is unique to Honda and offers great benefits when taking care of your property. The team at Honda has developed "a system that combines powerful suction with controlled and low turbulence air flow that reduces power loss, noise and grass accumulation."
Honda Optiflow™ is a fan powered system that starts at the air intake and forces grass clippings through the cutting deck, up to the grass ejection tunnel and out into the huge catcher. This maximizes the ability for the catcher to hold as much as possible before it needs to be emptied, giving you more time out cutting and less time emptying the catch. As previously mentioned it is also designed to reduce noise levels and also dust levels. Another benefit of this feature is that when there is moisture on the grass it helps push it through to the catch minimizing build up of wet grass clippers on the deck. With this in mind Honda have also included Hose attachment nozzles allowing you to connect your hose directly to the deck to clean it out. (see image on product page)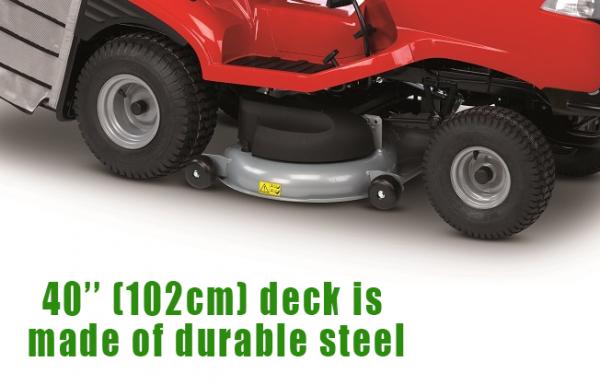 Other benefits on the HF2417 is the 40'' (102cm) deck is made of durable steel with automotive levels of anti-corrosion treatment. It has in-built hose connectors allowing easy cleaning once cutting is finished and the Blade engagement is via an electro-mechanical clutch for easy engagement.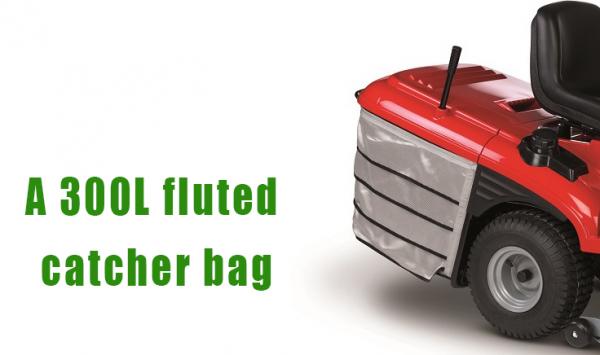 It also comes with a massive Catcher, A 300L fluted catcher bag allows improved catching performance with the additional benefits of lower dust and noise. It has easy tip with a sliding lever at arms reach.  
Along with the HF2417 Honda offers a smaller HF2315 with a 32" Cutting Deck and 280L Catcher, or a larger model, the HF2622. This is one serious Ride-on powered by a Honda GXV660 OHV 4-Stroke V-twin motor, a 48" Cutting Deck and a larger 350L Catcher. 
Learn more about our range here: https://www.hastingshonda.co.nz/power-equipment/?type=4 
and for a more visual approach, below is a video which demonstrates the great features which come with Honda Ride-ons. 
DID YOU KNOW? The worlds fastest ride on lawn mower is a Honda HF2620, Team Dynamics over in Europe swapped out the engine and replaced it with a 1000cc VTR Firestorm engine. It got the world record at 116mph and part of getting that record is the mower must still be capable of cutting grass, which it is. 

References: www.hondaireland.ie