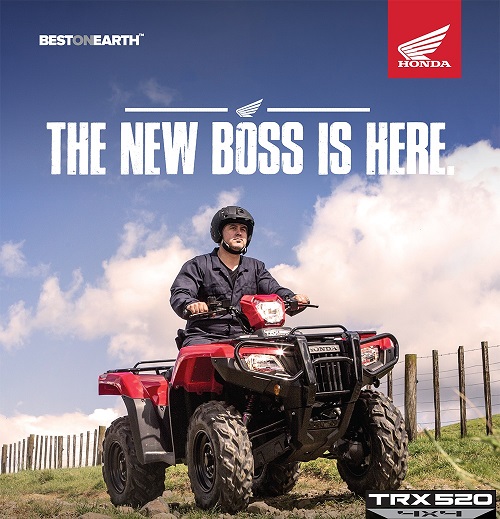 Introducing the new TRX 520 Range
-

TRX520FM2
There's big news this year for the Honda Foreman line-up. It starts with a new, bigger 518cc engine, and continues with a host of other improvements. This model is our dedication to offering a premiere no-compromise work ATV. Equipped with a larger 518cc engine, the new TRX520FM2 is stronger, more powerful, and easier to use than its predecessor.
The new motor and updated mapping provides more power and torque where it's used most - in the low end and midrange - to allow quicker acceleration, better ascending, and improved hauling and towing. The Honda TraxLok system allows you to move between 2WD and 4WD mode with just the flick of a switch. Front diff lock maximises traction over very rough terrain. The TRX520FM2 boasts new styling, an even more powerful assist headlight and increased storage compartments.
Elsewhere, the swing arm-style rear suspension is tried and proven on New Zealand farms, easily serviceable and with less moving parts it's made for durable running in harsh conditions. Towing is made more comfortable by moving the tow hitch onto the swing arm. A bulletproof manual machine loved by Kiwis, the TRX520FM2 is set to become NZ's new favourite ATV.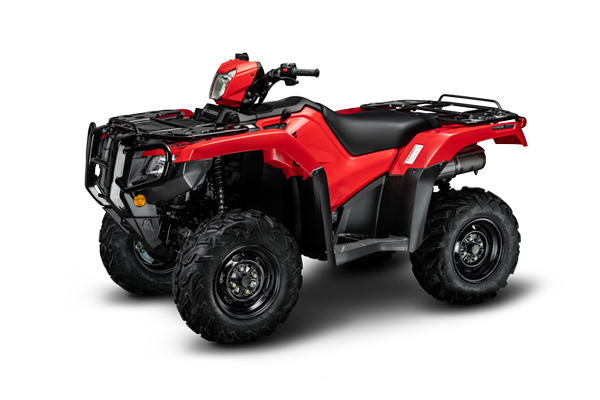 TRX520FM6
For those looking for a plush and smooth ride it's easy to choose the TRX520FM6. With independent rear suspension (IRS), a manual transmission and power steering, this is an unbelievably capable bike that will provide all-day comfort on the farm.
When you need a durable manual machine that can handle the toughest of terrain, and you also need a large towing capacity, the new TRX520FM6 is the perfect choice. The larger engine provides improved power and torque where you need it - in the low end and midrange - for quicker acceleration, better ascending and improved hauling, complementing the massive 600kg towing capacity. A handlebar-mounted switch makes it easy to select between two-wheel drive, four-wheel drive and four-wheel drive with the front differential locked.
The new 1.9L utility box with weatherproof cover on the front deck provides a second storage compartment, while the newly engineered front and rear cargo racks provide more loading options. New styling completes the package and provides a more aggressive stance, making the FM6 better than ever.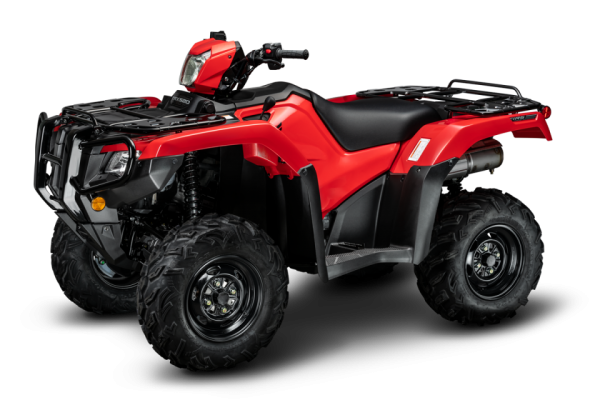 TRX520FA6
The TRX520FA6 is Honda's flagship ATV and with the new 518cc engine it now has even more power and torque to perform all the big tasks on farm. The exiting news though is a revised transmission which monitors engine rpm in real time to offer smooth seamless shifting in auto mode.
The automatic dual-clutch transmission (DCT) features both automatic and manual modes, a hi-low range sub transmission, and a new reverse switch to simplify the transition into and out of reverse. The improved engine RPM sensing system offers smoother and more seamless shifting between gears and there's also an override capability to allow manual shifting even when in automatic mode - giving the rider a new level of control and making it possible to downshift on corner entry or upshift manually.
In the looks department, the FA6 sports a redesigned grill and front bumper for a more aggressive, stylised look, and it also comes with a handy new utility box and new carry rack design. New guards extend the full length of the lower suspension arms for full coverage of the driveshaft and outboard CV joints for even more under body protection. With a front diff lock and massive 600kg towing capacity this bike is made to tackle the big jobs.